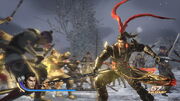 Weapons in Dynasty Warriors 7 and 8 behave in a different manner than previous iterations of the series. Like the Strikeforce titles, characters can simultaneously equip two weapons at once and can switch between them at will. During battle, players can hold more than one weapon in their inventory and can switch the weapons they're using to change to another in reserve. This can be done during the middle of battle or even when the character is still in the air.
A quick switch between the two weapons triggers a "Switch Attack". Depending on the weapon, the motions for the attack will vary.
An "EX Attack" becomes available when a character is equipped with their personal weapon of choice (colloquially known as "EX Weapon"). The method for inputting these attacks are shown to the player through the weapon's action listing in the game's pause menu. A simple way of spotting the EX Attack or a character's weapon of choice is by noting the letters "EX" with the weapon icon. When it's selected, the golden letters will notify the player. There is one "EX Attack" available per character (2 in Dynasty Warriors 8: Xtreme Legends).
Even if characters have a preferred weapon of choice, however, the producer stresses that any weapon can be freely equipped for any character. A character's preferred weapon may not always be the best one for each character since it may not cover all of the character's weakspots. For an example, he compared Guan Yu and his trademark Green Dragon Crescent Blade. The weapon may cover a wide range but it's also slow and leaves Guan Yu open to attacks. To counter this, the producer suggested equipping Guan Yu with a speedier weapon type to make him more flexible. The weapon system strives to grant players the freedom to counteract these type of imbalanced traits at their own will and preferences.
Since the movesets themselves are ingrained with the weapon and not the character, all of the characters in this title will have similar movesets. This means anyone using a set of gauntlets, for example, will act in the same manner as Ding Feng or Meng Huo, the EX users of the weapon type. The known traits to separate EX users from the rest of the cast are their EX Attacks and specialized Musou attacks. Musou attacks for all of the characters will switch to their preferred weapon, regardless of whatever weapon they are currently using. Even if he doesn't have it within his inventory, Zhao Yun will automatically switch to his spear for his Musou attacks. The producer remarked that players can make any type of joke they want about how this is even possible. In the seventh title, gender plays a part in deciding which weapons a character may be able to use.
"Unique" weapons also exist in the seventh game. For instance, both Zhuge Liang and Sima Yi have feather fans as their weapon of choice, but their appearances differ from one another. Wang Yuanji's throwing daggers for her downloadable costume will change their look but will act the same. These "unique" effects are purely cosmetic.
Weapons can be earned by defeating enemy generals in battle or by purchasing them at a weapons store in Story or Conquest Mode. There are weapons that will be exclusive for the player in one mode and not the other (i.e.: there are weapons available in Story Mode that can't be found in Conquest Mode).