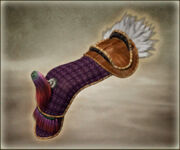 The Elephant Saddle (象鐙, Zō Abumi, lit. Elephant Stirrup) allows players to ride the Nanman's favored mount, elephants. They are slow yet have a destructive stomp. It's also trickier to knock a person off of these mounts.
In Arslan: The Warriors of Legend, elephants are restricted to cpu units, such as Gadevi.
How to Obtain
Edit
Ad blocker interference detected!
Wikia is a free-to-use site that makes money from advertising. We have a modified experience for viewers using ad blockers

Wikia is not accessible if you've made further modifications. Remove the custom ad blocker rule(s) and the page will load as expected.