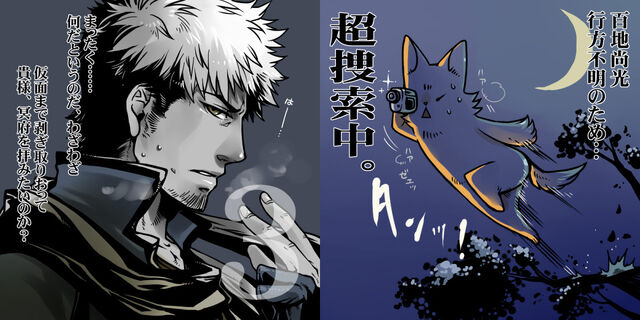 http://twitpic.com/cdrp5u http://twitpic.com/ce1f40
Translation on image (right):
"Momoji Naomitsu's whereabouts are unknown... Currently on the hunt for him."
Twitter comment: Kuku's avatar: "Where are you, Master!?" (pant pant)
Translation on image (left):
"(sigh) I swear... All that running and you ripped off my mask... Just for a lousy picture?"
Twitter comment: Momoji: "(sigh) ... (To think I failed to escape from this crimson, furry monstrosity... What a blunder...)"
Kuku devouring character cookie sent to her by Ruby Party to enjoy
Translation: "This is the end of the road... My life's regret!!" (chomp=3)Like a true shinobi... not a single trace of him remains. How admirable... ( ´ ω ` )<nom nom♡
Appears on these pages

of
Geten no Hana (下天の華, Literally: Flower of the Human World) is the latest entry in the Neoromance...
File history
Click on a date/time to view the file as it appeared at that time.
Ad blocker interference detected!
Wikia is a free-to-use site that makes money from advertising. We have a modified experience for viewers using ad blockers

Wikia is not accessible if you've made further modifications. Remove the custom ad blocker rule(s) and the page will load as expected.