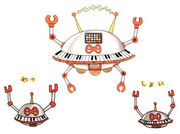 Flying-O (フライング・オー) is a UFO character and the second enemy that faces U-1 in Gitaroo-Man. As commander of Gravillian's top-class space fleet, Flying-O heads to earth with his minions, who are addressed as the Little Os (チビクン, Chibi-kun) by their leader. He is completely merged with his Gitaroo, which is a keyboard type, and shoots immobilizing dance rays.
Flying-O survives his encounter with U-1 and hosts the Flying Diary on the official website. Since he speaks in an intangible language of beeps and boops, his entries are not always correctly translated by D, the head of the official website. In his diary, he looks down on earthlings and thinks himself to be superior to everyone else in the universe. He adores his minions, and he was the one who demanded that their images be viewed on the website. He also worries when Little O 11 goes missing -even going as far to ask earthlings for his whereabouts- but is surprised to hear that his minion had went back home after attending COIL's moving recording sessions.
His real name is ∞@ル★♪プガ〒, but the game's director and D don't know how to correctly translate it in the human language. They substituted the gibberish for his name in the game.
Flying-O's battle is a step above Panpeus's stage in difficultly and introduces players to the other features found in the game. It may take beginners a few takes to complete, but, despite what Flying-O claims, he is actually one of the easier opponents to beat in the game due to his somewhat low endurance. On Master's Play, the button inputs and Phase Bars are much faster, needing some time for adjustment.
Before the song's finale, Puma bites a Little O and rides it. An angry woman pushes U-1 onto the other Little O and the group flies away. When U-1 defeats Flying-O, they crash in a distant forest.
Flyin' to your Heart

used in stage 2.
A techno-pop song by the Chinese group, YUAN, that fuses Japanese, Chinese, and English lyrics. Every element in the song is electric or synthesized in some way, including a-li's voice and U-1's Gitaroo. In Gitaroo-Man Lives!, the song is mainly sung in English.
Ad blocker interference detected!
Wikia is a free-to-use site that makes money from advertising. We have a modified experience for viewers using ad blockers

Wikia is not accessible if you've made further modifications. Remove the custom ad blocker rule(s) and the page will load as expected.