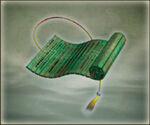 The Green Scroll (背水護符, Haisui Gofu, lit. Backwater Talisman) is an item found in Dynasty Warriors 5. It increases the user's attack but lowers their defense. In Dynasty Warriors 4: Xtreme Legends, the item is given the name of Power Rune to match its function.
How to Unlock
Edit
Ad blocker interference detected!
Wikia is a free-to-use site that makes money from advertising. We have a modified experience for viewers using ad blockers

Wikia is not accessible if you've made further modifications. Remove the custom ad blocker rule(s) and the page will load as expected.