All the movesets for Hideyoshi Toyotomi in the Warriors franchise.
Samurai Warriors: Xtreme Legends
Edit
Ground Moveset
Edit
Mounted Moveset
Edit
Samurai Warriors 2
Edit
Keeps his mounted moveset excluding his horse musou, which changes to a horse stampede. His ground moveset was changed dramatically due to his attack type (Normal).
Ground Moveset
Edit
:
R1 + : Earn gold easily by attacking enemies.
R1 + : Lower enemies's defense but raise their attack by taunting.
Personal Skill : (Finesse) Jump after executing a charge attack.
Warriors Orochi
Same attacks excluding his C5 and Level 3 Musou. His R1 attacks have also changed
R1:
R1 (counter):
Warriors Orochi 2

Triple Attack 1: Releases a wave of air to come flying at a certain length.
Triple Attack 2: Slams weapon unto the ground, causing strong gales to rise up from above.
Triple Attack 3: Causes a whirlwind to circulate for a short amount of time.
Fighting Style
Edit
Hideyoshi's combat style in Samurai Warriors 2 is designed for unpredictability. Most of his strikes involve deceptive movement in utilizing his weapon that can effectively hit farther than it would seem. Although not the most powerful character in the game, he can dispatch many enemies before he can get touched. His musou also runs with this idea as it has him constantly landing jump attacks seemingly at random. He has deceptively long range, good speed, and can combo extremely well - however, his overall strength is on the lower side and landing certain moves might take some practice as they come practically out of left field.
Due to his treasure-hoarding nature in the games, his fourth weapon in Samurai Warriors 2 is designed for high luck; making him a great character for item and money farming purposes.
Samurai Warriors 3
Edit
(Ultimate/Kaiden): Hideyoshi leaps into the air, spinning his staff, creating a vortex of flame diagonally downward.
Spirit Cancel:
R1: Activating this skill causes any regular unit defeated by Hideyoshi to randomly drop gems.
Warriors Orochi 3

R1: Launches nearby enemies up in the air by slamming staff on the ground, then while climbing on top of it, creates two explosions that affects enemies within the vicinity.
Samurai Warriors 4
Edit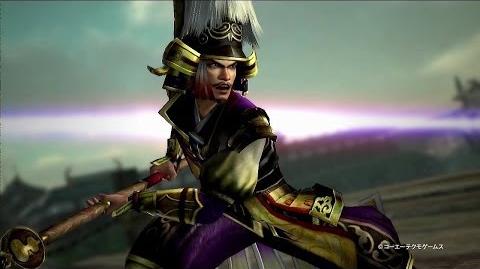 Mighty strike is the same as Deadlock attack. Moveset remains the same with the following changes.
: Finisher changes to him throwing his staff at foes. It repeatedly circles around him while he admires the gold above his head.
Hyper Moveset
Edit
Ad blocker interference detected!
Wikia is a free-to-use site that makes money from advertising. We have a modified experience for viewers using ad blockers

Wikia is not accessible if you've made further modifications. Remove the custom ad blocker rule(s) and the page will load as expected.