All the movesets for Kenshin Uesugi in the Warriors franchise.
Samurai Warriors
Edit
Ground Moveset
Edit
Mounted Moveset
Edit
Samurai Warriors 2
Edit
Keeps his mounted moveset excluding his horse musou, which changes to a horse stampede. His ground moveset was changed dramatically due to his attack type (Normal).
Ground Moveset
Edit
: Same as before, only the level 3 version grants him the giant mirror image buff. The Level 2 and 3 versions instead have Kenshin perform the 4th-to-6th inputs of his normal attack chain before the finisher.
R1 + : Summons a giant spiritual replica of his torso to mimic his movements. The afterimage increases the power of his normal attacks, and will not correspond to his current weapon element (as well as having hitboxes of its own). Naturally disappears over time, when Kenshin is hit too many times, or when Kenshin mounts his horse.
R1 + : Sends a shikigami forward. It hovers in the air for a moment before exploding in a damaging puff of smoke.
Personal Skill : (Omniscience) Guard against attacks from behind.
Mounted Moveset
Edit
Warriors Orochi
Same attacks excluding his C9 and Level 3 Musou. His R1 attacks have also changed to be limited to one attack:
R1: summons three giant images of himself to mimic his series of stabs forward. One image replica remains to continue copying his movements. Disappears in the same manner as its Samurai Warriors 2 counterpart.
Warriors Orochi 2

Triple Attack 1: Quickly unleashes a radial shockwave.
Triple Attack 2: Releases a shockwave traveling from the ground at a considerable distance.
Triple Attack 3: Slams weapon unto the ground, causing a pillar of light to erupt.
Samurai Warriors 3
Edit
Keeps the same moveset with the following changes.
(Ultimate/Kaiden): Kenshin focuses his energy into his blade, then causing his giant image to appear behind him; the pair slam their swords into the ground in unison, creating a large forward sword beam along the ground.
Spirit Cancel: Holds his sword with both hands in front of himself as he charges forward.
Warriors Orochi 3
Character type changed from Power to Speed. Loses the ability to use Spirit Charge and sidestep, but gains the ability to air dash and jump cancel; regains his C9 along with reprising a previous Type Action.
R1: Same as his original Special Skill/Type Action, only he first performs a rushing slash forward that knocks back.
Samurai Warriors 4
Edit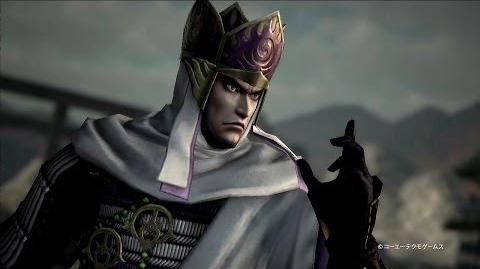 Mighty strike is the same as Deadlock attack. Same moveset with some alterations.
, , , , , , , , : Same as before, but the smoke cloud no longer circles around him twice and also no longer grants him his mirror image buff.
: Finisher changes to him conjuring a rain of fire around himself.
Hyper Moveset
Edit
Fighting Style
Edit