Koei Wiki:Featured Article
Talk

4
Ad blocker interference detected!
Wikia is a free-to-use site that makes money from advertising. We have a modified experience for viewers using ad blockers

Wikia is not accessible if you've made further modifications. Remove the custom ad blocker rule(s) and the page will load as expected.
The following is a list of all the Featured Articles on Koei Wiki. A featured article is displayed on the front page of the Wiki for a month. Articles are chosen if they are well written and have plenty of information.
To see which articles are currently being debated, visit here.
December 2016
Edit
November 2016
Edit
October 2016
Edit
September 2016
Edit
August 2016
Edit
This Month's Featured Article
Liberty or Death is a turn-based strategy game based on the American Revolution and one of Koei's early historical simulation titles. Players can choose to play as a commander for the American Continental Army or the British Royal Army. (Read more)

 
July 2016
Edit
This Month's Featured Article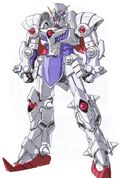 Knight Gundam hails from a alternate Western fantasy universe, Saddarc World, in the Gundam series. Although he has lost his memory, he is a heroic champion of justice who defeats the Demon King. (Read more)

 
June 2016
Edit
This Month's Featured Article
Jumpei Tsuda is a technical programmer who has worked for Koei since 1993 and is currently Senior Expert of the Technical Support Unit. He is known as one of the earliest pioneers for Japanese video game physics. (Read more)
This Month's Featured Article
Daikoukai Jidai V is a free-to-play browser game and the fifth numbered installment of the Uncharted Waters series. The player joins a quest at the behest of their childhood friend, Jupitor Fernandez, to become admiral and begins a journey to search for the protagonist's father and the pieces of the Philosopher's Stone. (Read more)

 
April 2016
Edit
March 2016
Edit
This Month's Featured Article
Yuriko Mori is a Japanese lyricist who has written a wealth of character image songs for Koei's various franchises. She is a prolific writer and has written over 1,000 songs during her career. (Read more)
February 2016
Edit
This Month's Featured Article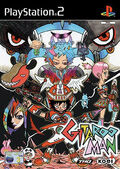 Gitaroo-Man is a music rhythm game that follows the adventures of U-1 and his fight to liberate the Planet Gitaroo from the Gravillian Empire. (Read more)

 
January 2016
Edit
December 2015
Edit
This Month's Featured Article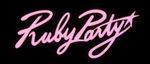 Ruby Party is a video game developing team that has been creating games for Koei since 1994. The team consists mostly of female developers and focus on creating romance simulation games. (Read more)

 
November 2015
Edit
This Month's Featured Article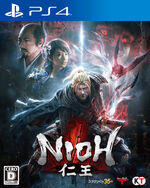 NIOH is an upcoming action game currently being developed with Team NINJA. While it originally started out as a collaboration title to be released concurrently with an unfinished Kurosawa film, long delays set back development on the game for over a decade. (Read more)

 
October 2015
Edit
September 2015
Edit
This Month's Featured Article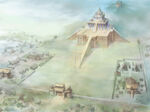 Toyo-Ashihara-no-Nakatsu-Kuni is an ancient name for Japan that appears in folklore and mythology. Legends state it was a land long fought over by the gods until Emperor Jimmu defeated the deities and created the first Kingdom of Japan. It serves as the setting for a few of Koei's games. (Read more)

 
August 2015
Edit
July 2015
Edit
June 2015
Edit
April 2015
Edit
March 2015
Edit
February 2015
Edit
January 2015
Edit
November 2014
Edit
October 2014
Edit
This Month's Featured Article
Royal Blood II ~Dinar Oukoku Nendaiki~ is a fantasy turn-based strategy game and derivative sequel to Gemfire. The player can choose to serve on the side of the Light or lead the forces of the Dark as each side seeks to control the continent of Miradia. (Read more)

 
September 2014
Edit
August 2014
Edit
July 2014
Edit
This Month's Featured Article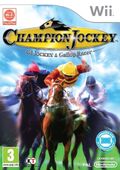 Champion Jockey: G1 Jockey & Gallop Racer is a horse racing simulation game which combines elements from both Koei's G1 Jockey and Temco's Gallop Racer franchises. Players can pick and choose features from the two series to create a unique gaming experience. (Read more...)

 
June 2014
Edit
April 2014
Edit
March 2014
Edit
February 2014
Edit
January 2014
Edit
December 2013
Edit
November 2013
Edit
October 2013
Edit
September 2013
Edit
August 2013
Edit
July 2013
Edit
June 2013
Edit
This Month's Featured Article

Shikanosuke Yamanaka was an Amago retainer famed for his valorous last stand against the Mōri. Although popularly known to be brave and handsome, not much is actually known about his actual person as his feats of heroism are possibly over-exaggerated tales and legends spawned during the Edo period. (Read more...)
April 2013
Edit
This Month's Featured Article
Nanatsu no Hikan is a single player adventure game surrounding the mystery of seven mansions. The player's character, Ippei, is given the task of solving the riddles left behind by his late grandfather at the behest of his uncle. (Read more...)
March 2013
Edit
February 2013
Edit
January 2013
Edit
December 2012
Edit
This Month's Featured Article

Huang Feihu is one of the main characters featured in the Fengshen Yanyi series. He tends to join the protagonists' party early in the games' stories and remains a constant companion. A strong addition to the party, he takes the role as one of the more sturdy fighters of the cast. (Read more...)
November 2012
Edit
October 2012
Edit
This Month's Featured Article
Söldnerschild Special is a tactical strategy rpg that was released and developed in a collaboration with Sega. Set in the fictional European-inspired continent, Ligurian, the player assumes the role of an aspiring mercenary, Ein, who wanders the land to fight for various lords and countries. (Read more...)
September 2012
Edit
August 2012
Edit
July 2012
Edit
This Month's Featured Article
Pop Cutie! Street Fashion Simulation is a fashion designer simulation game that was originally released for the Playstation console. Players create and run their own clothing store and sell their branded clothing based on suggestions collected from the game's populace. (Read more...)
June 2012
Edit
This Month's Featured Article
Ryotaro Okiayu is a popular and prolific voice actor from the Japanese voice acting agency, Aoni Production. A self-professed fan of Koei and their games, he is often hired by Koei for multiple roles and one of the most frequently contracted actor thus far. (Read more...)
April 2012
Edit
This Month's Featured Article
Emit is the first entry in Koei's English Dream series. It is a bilingual game aimed to help Japanese natives to learn English offering subtitles, spoken dialogue and guides in both languages. It was released in three parts and published on numerous game consoles. (Read more...)
March 2012
Edit
February 2012
Edit
January 2012
Edit
This Month's Featured Article

Prey the Stars is a simple eating game developed by Koei Canada that was released on the Nintendo DS. Players can control one of four different creatures and devour everything in sight to help restore order to the universe. (Read more...)
December 2011
Edit
This Month's Featured Article
RX-0 Unicorn Gundam is the titular Mobile Suit from Mobile Suit Unicorn Gundam and is piloted by the series protagonist, Banagher Links. It is a powerful mecha that is the key to unlocking the mysterious Laplace's Box said to hold the power to destroy the Earth Federation. It was first introduced as a playable Mobile Suit in Dynasty Warriors: Gundam 3. (Read more...)
November 2011
Edit
October 2011
Edit
September 2011
Edit
This Month's Featured Article
Apsaras was Koei's first MMORPG. Set in the fantasy world of Selestia, players can use their characters to tap into the powers of sleeping dragon gods. The title character is the priestess of these dragon deities. Her disappearance sets the stage for the player's journey. (Read more...)
August 2011
Edit
This Month's Featured Article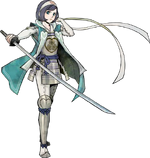 Okatsu is an original character created by Koei who is based on one of Ieyasu's concubines. Depicted as a warrior in her multiple appearances, she is predominately featured in the Kessen series as a supporting character. She stays by her lord's side as a loyal protector and private confidant. (Read more...)
August 2009
Edit
This Month's Featured Article
Dynasty Warriors 6 is sixth installment of the Dynasty Warriors series. It's the first game of the series to be made for next generation consoles. The game features a complete revamp of the fighting system by introducing the new Renbu gauge and gave redesigns for the series's characters. It was intended to revive and update the series and convey the developers' wishes to create the "ultimate action game". Since its release it has spawned various expansions and spin offs such as Dynasty Warriors: Strikeforce and Dynasty Warriors 6: Special. (Read more...)
March 2009
Edit
This Month's Featured Article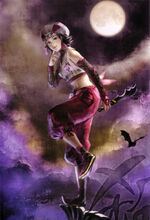 Kunoichi is a playable character in the Samurai Warriors series, first introduced in Samurai Warriors. She is unique in that she is the only character in the series who is not based on a historical figure but rather two popular tales surrounding the Takeda and Sanada clans and their supposed use of ninja. In the case of the former, she is not based on Chiyome Mochizuki and is meant to be one of the possible kunoichi trained by her. Her weapons are two kunai that she uses by slashing with them and throwing them. Her ultimate weapon is Shiranui excluding the weapons featured in Samurai Warriors: Xtreme Legends. Despite debuting in the first Samurai Warriors, she was removed in Samurai Warriors 2 and replaced with Nene. She, along with other characters, returned in the Warriors Orochi series. (Read more...)
January 2009
Edit
This Month's Featured Article
Warriors (Musou) Orochi is a cross-over game created by Koei in which the Dynasty Warriors game series and Samurai Warriors series are combined. The game introduces 2 new characters - Orochi and Da Ji. Another new feature is the ability to form a party of 3 characters in your story or any characters in Free Mode. Each character in Warriors Orochi is divided into three different categories: Speed, Technique, and Power. Each type has it pros and cons in the party depending on the battle at hand. The Game has since been made for the PC, PSP, and Xbox 360. (Read more...)
November 2008
Edit
This Month's Featured Article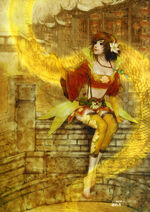 Sun Shang Xiang is a playable character in the Dynasty Warriors Series, first introduced in Dynasty Warriors. She was the first female character to be introduced in the series and is possibly one of the most popular females since her debut. Her weapon in the original game was a sword but was changed to two chackrams for Dynasty Warriors 2 and she kept them until Dynasty Warriors 5 - in Dynasty Warriors 6 she was changed to using a bow. These chackrams were called "Sol Chackrams" though the strongest weapons she has used were called "Astral Chackrams". She is also one of the few female characters in the game that seems to be portrayed as a fighter as opposed to a woman and she is also referred to being as such in the Romance of the Three Kingdoms. (Read more...)
October 2008
Edit
This Month's Featured Article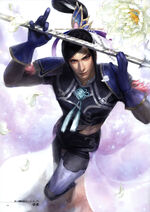 Zhang He is a playable character in the Dynasty Warriors Series, often seen as one of the most unique and unusual characters. He has recieved a fair share of both positive and negative feedback since being introduced in Dynasty Warriors 3. Zhang He is usually portrayed as a beautiful, graceful and effeminate warrior. He uses exaggerated clawed gloves or tiger claws called the "Phoenix Talons" during combat until Dynasty Warriors 6 where he welds a double ended spear instead of his former twin claws from the previous games. Famed for his resourcefulness that even Zhuge Liang was said to be wary of, Zhang He was considered by Chen Shou, author of the Records of Three Kingdoms, to be one of the five top generals of the Kingdom of Wei. (Read more...)
September 2008
Edit
This Month's Featured Article
Liu Bei is a playable character in the Dynasty Warriors Series, he was introduced in Dynasty Warriors 2 and has returned in every Dynasty Warriors game since. Liu Bei was the ruler of Shu and constantly tried to be a leader of honour and virtue. His weapon was a Long Sword until Dynasty Warriors 6 where it was changed to Twin Swords, the ultimate of the Long Swords was called "Gold Moon Dragon". Liu Bei's appearance is possibly one on the least true to history until Dynasty Warriors 6 due to him having facial hair, something he is mocked for lacking in the true Romance of the Three Kingdoms. (Read more...)
August 2008
Edit
This Month's Featured Article
Zhao Yun is a playable character in the Dynasty Warriors Series, he was introduced in the very first Dynasty Warriors and has returned in every Dynasty Warriors game since. His weapon is a long spear, the ultimate one called "Fierce Dragon" and it doesn't change in Dynasty Warriors 6 unlike many other chatacters' weapons. Zhao Yun has become the iconic character of the Dynasty Warriors Series since his first appearance, often being called the mascot of the series and appearing in many of the games intro movies, promotional art and game manuals. (Read more...)
July 2008
Edit
This Month's Featured Article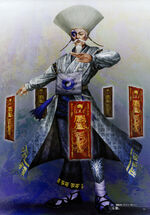 Zuo Ci is a playable character in Dynasty Warriors 5, he was introduced in this game as a new character, however, he does not return in Dynasty Warriors 6. His stats are extremely high, even surpassing Lu Bu's, the first time a character has ever done so. His weapons are a deck of cards, the ultimate being a deck called "Trump Deck", which have a high base attack power. This makes him on par with Lu Bu's weapon, however, Lu Bu's moveset has a longer reach and is therfore deadlier. He appears little in any character's story save Cao Cao's, most likely due to his minute involvement in the story of any character besides him in the true story of "The Romance of The Three Kingdoms". (Read more...)
June 2008
Edit
This Month's Featured Article
Lu Bu is usually the icon character as he is bestowed with the highest statistics of all playable generals (bar Zuo Ci) and is granted a vastly superior move set. His weapon, a large halberd he calls the "Sky Scorcher", is also deadlier than almost every other weapon due to its long reach, wide range and massive rate of damage. He is also highly difficult to kill in the Dynasty Warriors series—alluding to his reputation as an unmatched and highly skilled warrior. (Read more...)
Recently featured: None