All the movesets for Kotarō Fūma in the Warriors franchise.
Samurai Warriors 2
Edit
Ground Moveset
Edit
R1 + : Extends his arm forward. If it connects, Kotarō throws his captured enemy by whipping them once behind him and hurling them forward. Cannot be blocked.
R1 + : He spins one hand in a complete circle to conjure four fire balls before he projects them forward.
Personal Skill : (Facility) Evade while performing a charge attack.
Horse Moveset
Edit
Warriors Orochi
Same attacks excluding his C5 and Level 3 Musou. He gains a few new abilities:
, : An aerial dash with temporary invulnerability. Kotarō leans into a position parallel to the ground and spins.
R1: Stretches both arms forward. If they connect, he quickly lifts his captured enemy into the air before pounding them back down. Creates a ground explosion that harms nearby foes.
direction + R1: Kotarō takes a few quick steps before he slides along the ground. Hits downed opponents.
Warriors Orochi 2

Triple Attack 1: Outstretches arms to launch fierce gusts traveling at a certain distance.
Triple Attack 2: Causes ground to erupt with glimmering light.
Triple Attack 3: Spins arms with enough force to create a pillar of wind.
Samurai Warriors 3
Edit
Keeps relatively the same moveset with the following additions.
(Ultimate/Kaiden): Kotaro extends his gloves to multiple times their normal extended length, then spins continuously in a tornado like fashion.
Spirit Cancel:
Warriors Orochi 3

R1: Fires a ball of pure energy towards the opponent.
Samurai Warriors 4
Edit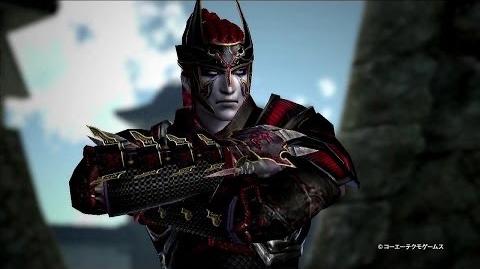 Mighty strike is the same as his Deadlock Attack. Moveset type is altered to Hyper type. Majority of his old attacks return but they are altered.
Charge Moveset
Edit
Hyper Moveset
Edit
Dashing :
R1:
: Finisher changes to him vanishing and warping to hit enemies in a designated area in front of him.
Mounted Moveset
Edit
Fighting Style
Edit
Kotaro is an all round powerhouse. His moves are quick, simple and powerful. He has a couple of ranged attacks but is one of the best characters in physical combat. He can counter opponent's move easily. Yet new players may struggle to adjust to his limited range and the recovery times within his starting moveset, especially with his beginning stats and weaponry. Kotaro's defense stat doesn't allow for too many hits and players will need to rely on his quick attacks to avoid being hit. His running speed is among the slowest of the ninja characters, which may cause problems for timed ninja themed missions.
Ad blocker interference detected!
Wikia is a free-to-use site that makes money from advertising. We have a modified experience for viewers using ad blockers

Wikia is not accessible if you've made further modifications. Remove the custom ad blocker rule(s) and the page will load as expected.