Kubard

Character Information

Allegiance(s):
Pars
Hilmes
Occupation:

Cavalry General (formerly Aži Dahāka)

Weapon(s):

Giant sword
Severing bow

Voice Actor(s):

Kenta Miyake
Kubard (クバード) is a major character from The Heroic Legend of Arslan and a playable character in Arslan: The Warriors of Legend.
Famed as the "three-headed dragon" for the scar over his left eye, he is a warrior who disowns his liege due to his conduct at Atropatene Plains. He acts on Saam's recommendation to serve Hilmes. After a hectic turn of events, he meets Arslan's forces and shifts his allegiances to them.
Personality
Edit
Kubard is a leader who protects his men. He remembers the names of every person who serves in his unit and seeks to personally judge the risks any movement imposes on them. To him, anyone who forgets their ties to his fellow man isn't someone worthy of his loyalty. Despite his reputation as a powerful and sharp veteran of impeccable service, formalities and praise makes him gag. He personally prides "Kubard the Braggart" as his epithet. Combined with his cheery wit and sarcasm, his presence is popular and liked within every branch of the military.
His love for wine and women is also famous; unlike his military record, Kubard openly relishes them. He distinguishes himself from Gieve in his preferences, insisting he only takes his chances on "real women" like Farangis. Once he joins Arslan, he bonds with Daryun.
See also: Kubard/Quotes
R1 (Unique Skill): Kubard does two energy slashes, one diagonally upward, then downward, easily piercing shields of officers.
: Kubard grabs an enemy. If he connects, he throws them up and catches them with his sword during a horizontal slash. His cut will carve into the ground in front of him and erupt to hit surrounding enemies. If he fails to grab an enemy, he'll still swing his sword but it will deal less damage.
Power Weapon Art
Dashing : Lunging diagonal slash.
Charge Shift: Three horizontal slashes followed by an overhead chop. Final attack will have a whirlwind and Fire element accompanying it.
Fire Weapon Art

, , , , , (): Plunges his sword into the ground and follows with a rising diagonal slash. The player can only hold one of the charges; holding either one increases Kubard's attack power and the launching effect of his sword plunge, and adds a whirlwind to the last slash.
Wind Weapon Art
Fusion Weapon Art

Water. Fire, and Miasma Elements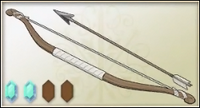 Water Weapon Art
Dashing : Spins into a crouching stop, firing three arrows as he turns.
Charge Shift: Quickly performs his normal attack chain. The final spinning shot will have him fire more arrows than his normal chain. The last attack is Fire elemental and is accompanied by a whirlwind.
Fire Weapon Art

, , , : Crouches as he unleashes five arrows in front of him. This attack is tipped with the Fire element.
Miasma Weapon Art

, , , (): Leaps into the air and fires a powerful arrow. When he lands, he crouches to keep shooting an arrow in front of him. Mash to rapidly fire more arrows. Alter his aim by moving the analog stick. On his final charge attack, Kubard will fire three arrows in front of him.
, , , , , , (): Kubard crouches to string a single arrow in his bow. He pauses for a moment before he fires it. The arrow will travel forward with a wide energy beam accompanying it that knocks foes upwards. The appending charge has him follow up with another powerful shot to knock enemies further back. Alter his aim throughout the sequence by moving the analog stick.
Mounted Moveset

Same as Sword moveset.
Fighting Style
Edit
This article is a stub. You can help the wiki by expanding it.
Ad blocker interference detected!
Wikia is a free-to-use site that makes money from advertising. We have a modified experience for viewers using ad blockers

Wikia is not accessible if you've made further modifications. Remove the custom ad blocker rule(s) and the page will load as expected.