Welcome to the KOEI wiki, a database that anyone can edit for Koei games. We're always looking for editors so you can help!

Ever since starting on January 5, 2006, our users have created a total of 2,734 articles.
If you would like to contribute, feel free to Create an account. Though you can edit without one, you get more benefits with one such as a sense of belonging in the community, as well as being acknowledged for your contributions.
If you want to upload an image, please read our uploading policy first.
Don't forget to visit the Spanish Dynasty Warriors wiki and the Koei Fanon wiki too!
Members and visitors! Feel free to participate in general group discussions for the wiki at the Community Portal or our forums.
Koei News
Technical changes to Wikia can be checked every Wednesday in Wikia staff's Technical Updates section. The latest Wikia updates can be checked on the Staff Blog.
November 2015
The December 17 issue of Weekly Famitsu reveals additional details for the upcoming Winning Post 8 2016, currently scheduled to be up for sale on PC, PS3, PS Vita, and PS4 March 24, 2016. Players can set up clubs again and new parameters have been given to horses. Siblings of rival characters and additional super boss horses have been introduced.
Results from Famitsu's most wanted Warriors collaboration questionnaire were published in its December 3, 2015 issue; the top results are from over 7,000 replies. Touken Ranbu topped the video game category while Pretty Cure was the forerunner for the anime category. Hisashi Koinuma expressed his interest for a fantasy Warriors game that can be played from PC browsers or smartphones. He thinks there are already Warriors IPs that cater to the female market and that the cover art would be difficult to create.
Shin Sangoku Musou Online Z released an outline of its November updates which include a Xiaoqiao themed weapon update and a celebration campaign for the PSVita release this month.

To commemorate eight years of service, a Dead or Alive 5 Last Round collaboration will start November 26. Players can purchase Marie Rose and Zack avatar sets. Other campaigns and events can be viewed on the eighth anniversary campaign page.

Nobunaga no Yabou Online Kakusei no Shou has progressed into the second phase of its Oshu update. Players can help the god Idaten and a maiden from the moon slay demons in order to break the supernatural seal placed around the region.
Nobunaga no Yabou Tenshouki with Power Up Kit HD Version shall be available for the PS Vita and PC November 12. Sphere of Influence character portraits are being implemented as an option along with new additional portraits.
This year marks the twenty-fifth anniversary of the Uncharted Waters series. Daikoukai Jidai Online and Daikoukai Jidai V players are being offered various campaigns to commemorate the occasion.
2015 marks the thirtieth anniversary of the Romance of the Three Kingdoms series. Koei is celebrating with the thirteenth numbered installment that will be up for sale on January 28, 2016. Its previous date was December 10, "Romance of the Three Kingdoms Day". Kou Shibusawa is the general producer while Akihiro Suzuki is producer. Its general concept is to represent a setting filled with "hundreds of heroes", allowing players to control individuals rather than a singular ruling warlord.
The twentieth anniversary for the Neoromance series concludes this year with another stage event called Neoromance 20th Anniversary ♥ Finale. It will take place December 5~6 at Pacifico Yokohama. Ruby Party has teased that a big announcement will be made at the event.

At the start of the event, a montage movie will play of various people congratulating the twentieth anniversary. Fans can apply to appear within it by sending in their head shot and alias to the contact e-mail. The application deadline is November 29.

Gamecity members who shop from Gamecity have a chance to win random merchandise from two previous events: Neoromance ♥ Festa Kiniro no Corda Jinnan Koukou Op.2 and Neoromance ♥ Live Haruka Matsuri 2015. Purchase any item within the campaign pages to be eligible for the lottery campaigns. The Corda campaign ends November 23 while the Haruka one ends December 7.
This Month's Featured Article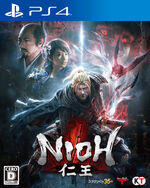 NIOH is an upcoming action game currently being developed with Team NINJA. While it originally started out as a collaboration title to be released concurrently with an unfinished Kurosawa film, long delays set back development on the game for over a decade. (Read more)

 
Collaboration of the Month
Create articles that aren't character related.