Welcome to the KOEI wiki, a database that anyone can edit for Koei games. We're always looking for editors so you can help!

Ever since starting on January 5, 2006, our users have created a total of 2,668 articles.
If you would like to contribute, feel free to Create an account. Though you can edit without one, you get more benefits with one such as a sense of belonging in the community, as well as being acknowledged for your contributions.
If you want to upload an image, please read our uploading policy first.
Don't forget to visit the Spanish Dynasty Warriors wiki and the Koei Fanon wiki too!
Members and visitors! Feel free to participate in general group discussions for the wiki at the Community Portal or our forums.
This Month's Featured Article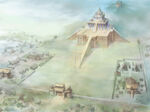 Toyo-Ashihara-no-Nakatsu-Kuni is an ancient name for Japan that appears in folklore and mythology. Legends state it was a land long fought over by the gods until Emperor Jimmu defeated the deities and created the first Kingdom of Japan. It serves as the setting for a few of Koei's games. (Read more)

 
Collaboration of the Month
Create articles that aren't character related.