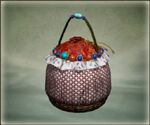 Meat Bun Sack (饅頭袋, Mantō Fukuro, lit. Mántou/Manjū Pouch) is a item found only in the Xtreme Legends expansions for Dynasty Warriors 4 and Dynasty Warriors 5. It increases the frequency of meat buns appearing. This is useful for players who want a ready health boost at any given moment. In Dynasty Warriors: Online this item is called "Herbal Tea".
How to Unlock
Edit
Ad blocker interference detected!
Wikia is a free-to-use site that makes money from advertising. We have a modified experience for viewers using ad blockers

Wikia is not accessible if you've made further modifications. Remove the custom ad blocker rule(s) and the page will load as expected.