All the movesets for Mitsuhide Akechi in the Warriors franchise.
Samurai Warriors
Edit
Ground Moveset
Edit
Mounted Moveset
Edit
Samurai Warriors 2
Edit
Keeps his mounted moveset excluding his horse musou, which changes to a horse stampede. His ground moveset was changed dramatically due to his attack type (Normal).
Warriors Orochi
Loses his Level 3 Musou and does not regain his C9 in the sequel. Gains the ability to air dash and two Combination Arts.
, , , , : Same as before, but becomes a single gust of wind instead. Can be jump-cancelled early for an awkward "double jump" effect.
R1: Hops forward while spinning rapidly in a tunneling-fashion, slicing foes to his front. Inflicts crashing knockback.
Direction + R1: A quick battōjutsu slash forward that sends a miniature flashing wave of energy forward. Shares this type of move with Zhou Tai's Art 2.

In Warriors Orochi 2, this move is severely nerfed in both damage and hitstun.
Warriors Orochi 2

Triple Attack 1: Releases a wave of air flying at mid-range.
Triple Attack 2: Produces a massive wind column surrounding the vicinity for a short amount of time.
Triple Attack 3: Causes a whirlwind to travel around the user.
Samurai Warriors 3
Edit
, , , , , , , , : Same as before, only blue line-traces trail from his blade as he draws the moon, and the moon no longer appears while a faint white circle is shown in its place, with its perimeter being formed from Mitsuhide's prior sword motion. The prior sword motion also now has a hitbox that breaks guards, which also forward-launches airborne targets hit by the prior motion high up; this often causes the actual slash to miss during a juggle.
(Ultimate/Kaiden): Mitsuhide sheathes his blade, but keeps his hand on it as he adjusts his grip on it. After charging for several seconds, he unsheathes the blade with lightning speed, sending a large flat projectile forward and shattering the screen. Used as his True Musou Attack in Warriors Orochi 3.
Spirit Cancel: Leans forward with his left side while bringing back his blade to his right.
Warriors Orochi 3
Character type changed from Speed to Technique. Loses the ability to air dash, jump cancel and Spirit Charge, but keeps the ability to sidestep; gains the ability to sidestep-dash attack and to critically hit, along with a new Type Action. Also regains his C9.
, , , , , , , , : Same as before, only the prior launch is weakened to allow the final slash to strike juggled targets properly.
R1: Brings back his blade and slashes outward-forward (via also pushing his blade with his free hand akin to his Special Skill) for a large cutting wave forward, then rushes forward with an inward scooping slash, ending with an alternate version of his C5 (which only spiral-launches on airborne hit or when the full chain connects and hits OTG). Activates attributes, break guards and stuns on all three attacks independently on a grounded hit, while the first two attacks (save for the cutting wave) count as physical blows that interact with destructible objects.
, R1 (Ultimate only): Dives forward with speed and a wind-resistance aura to pass through targets while launching a drawing slash upon landing. Upon connecting, targets are struck multiple times and are spiral-launched; this only effects any targets hit by the prior dive, or any targets Mitsuhide lands next to, but targets too high up may not suffer all hits as a penalty. Can be cancelled into from Mitsuhide's dashing attack, C1 (when he starts to run and during the dashing finisher) and C8.
Oddly enough, unlike Mitsuhide's C3, this attack's sheathing graphics are off.
Samurai Warriors 4
Edit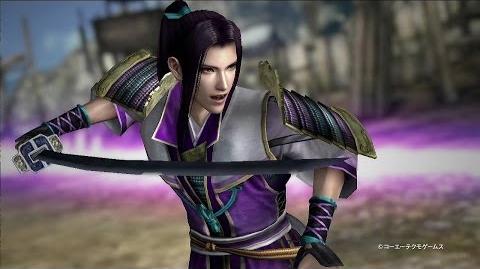 Mighty strike is the same as Deadlock Attack. Moveset type is altered to Hyper type. Retains some of his old attacks but they are all altered.
Charge Moveset
Edit
Hyper Moveset
Edit
Mounted Moveset
Edit
Fighting Style
Edit
Like Yukimura, Mitsuhide is well-rounded character with good power but somewhat lacking in attack range. Some of his charge attacks are wide-ranged, making him good against crowd control. When confronting enemy generals, it is recommended to perform C6 for defense breaks and C8 for additional damage despite its difficult execution.
Ad blocker interference detected!
Wikia is a free-to-use site that makes money from advertising. We have a modified experience for viewers using ad blockers

Wikia is not accessible if you've made further modifications. Remove the custom ad blocker rule(s) and the page will load as expected.