Ad blocker interference detected!
Wikia is a free-to-use site that makes money from advertising. We have a modified experience for viewers using ad blockers

Wikia is not accessible if you've made further modifications. Remove the custom ad blocker rule(s) and the page will load as expected.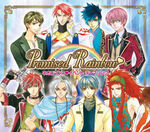 Promised Rainbow is the second theme song for Neoromance stage events that debuted at Neoromance ♥ Live 2008 Summer. It is often used as the encore song for events with multiple IPs.
Two versions of the song have been recorded; the second version adds voice actors in celebration of the brand's fifteenth anniversary.
Original: Kenyu Horiuchi, Daisuke Namikawa, Kazuhiko Inoue, Tomokazu Seki, Kishow Taniyama, Kentaro Ito, Hiroki Takahashi, Miyu Irino
15th Anniversary: Kenyu Horiuchi, Kazuhiko Inoue, Kishow Taniyama, Hiroki Takahashi, Tomokazu Sugita, Ryotaro Okiayu, Masakazu Morita, Daisuke Hirakawa
Lyrics: Akio Inoue
Composition, Arrangement: m-takeshi (Takeshi Masuda)
Koei label
映る景色の中の 大切を集めて
過ごす時間の欠片を 宝石に変えてく
雨で濡れた舗道を 駆け出す奇跡のような
終わることない煌めきを 笑顔の君が見せて
見上げたこの空に 出逢えた眩しさが
(See you again You say again)
目を閉じても消えない 虹を描き出す
何処かに君がいる 想うほど溢れてく
(See you again I say again)
鮮やかな約束は また逢える日のために
強く握り締めたら 壊れてしまいそうで
少し解く指先が 君の瞳を揺らした
すぐ会えると何度も 囁いても足りない
そんな優しい切なさに 触れて戸惑いながら
高鳴るこの胸に 生まれたときめきは
(See you again You say again)
ふたりだけの消えない 虹を架けるから
迷わずまっすぐに 君へと向かってく
(See you again I say again)
何一つ失くさずに 僕らは歩き出せる
遠く離れても 色褪せないまま
もっと近く君を 感じたい Just for you
見上げるこの空に 出逢いの眩しさで 
(See you again You say again)
目を閉じても消えない 虹を描き出そう
何処かに君がいる 想うほど溢れてく 
(See you again I say again)
鮮やかな約束は また逢える日のために
La La La・・・ (La La La・・・)
utusuru keshiki no naka no taisetsu wo atsumete
sugosu toki no kakera wo houseki ni kaeteku
ame de nureta hodou wo kakedasu kiseki no youna
owarukotonai kirameki wo egao no kimi ga misete
miageta kono sora ni deaeta mabushisa ga
(See you again You say again)
me wo tojitemo kienai niji wo egakidasu
dokokani kimi ga iru omou hodo afureteku
(See you again I say again)
azayakana yakusoku wa mata aeru hi no tame ni
tsuyoku nigirishimetara kowarete shimaisoude
sukoshi hodoku yubisaki ga kimi no me wo yurashita
sugu aeru to nandomo sasayaite mo tarinai
sonna yasashii setsunasa ni furete tomadoi nagara
takanaru kono mune ni umareta tokimeki wa
(See you again You say again)
futari dake no kienai niji wo kakerukara
mayowazu massugu ni kimi he to mukatteku
(See you again I say again)
nani hitotsu nakusazu ni bokura wa arukidaseru
tooku haretemo iroasenai mama
motto chikaku kimi wo kanjitai Just for you
miageta kono sora ni deaeta no mabushisa de
(See you again You say again)
me wo tojitemo kienai niji wo egakidasou
dokokani kimi ga iru omou hodo afureteku
(See you again I say again)
azayakana yakusoku wa mata aeru hi no tame ni
La La La・・・ (La La La・・・)
In this reflected landscape, I gather my treasures
The shards of time we spent together forms into precious gems
Like a miracle running across the freshly dried pavement,
I see your smiling face and endless sparkle
I gaze up to the sky and see the radiance of our meeting
(See you again You say again)
It is still there when I close my eyes, drawing a rainbow
No matter where I go, you are there. I think about you so much my heart could burst.
(See you again I say again)
We share a brilliant promise for the day we can meet again
We hold our hands like we are crushing them tightly together
When I let my fingers loose a little, your eyes waver
Whispering over and over that I'll see you again isn't enough
Buried in such bitter-sweet feelings, I lose myself in your touch
My heart races in my throbbing chest
(See you again You say again)
We'll build our own eternal rainbow
I will come to you at once
(See you again I say again)
We'll walk together without losing a single thing
Even if we're far apart, the colors will never fade
I want to feel you closer to me Just for you
I gaze up to the sky to the radiance of our meeting
(See you again You say again)
It is there even if I close my eyes, like it could draw a rainbow
I am always thinking of you, no matter where you are
(See you again I say again)
I carry our radiant promise for the day we can meet again
La La La・・・ (La La La・・・)
External Links
Edit