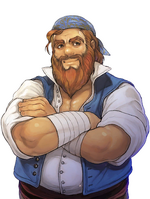 Rocco Alemkel (ロッコ・アレムケル) is a recurring character in the Uncharted Waters series who is first introduced in the first game. He acts as a mentor figure and in-game tutorial for certain protagonists.
Role in Games
Edit
Rocco is a veteran sailor who has served the Franco family for generations; he used to be feared as "Monster Rocco" back in his prime. He is introduced as the first mate of Raul Franco. He accompanied his captain to India, and their homeward voyage is thwarted by a storm at sea. Only Rocco survives to tell the tale. Impressed by Leon's resolve to restore his father's legacy, the old sailor agrees to guide him throughout his journey.
New Horizons has him act as João's mentor in seafaring. He is also vigilant of Catalina's wrath towards the young Franco, often thwarting her revenge attempts with ease.
Before Daikoukai Jidai V, he retired from his seafaring ways but is dragged by his granddaughter Nina into joining the protagonist's crew. Rocco may offer ship or fleet advice for the protagonist.
Personality
Edit
Loyal and well-versed in maritime navigation, Rocco shares a strong bond with three generations of the Franco family. In contrast to his deference towards Raul, he acts as a strict but warm-hearted father figure to Leon and João, often finding himself exasperated by their respective quirks.
"Pipe down, lad! The blunder of one fool can sink a whole crew. What wisdom 'ave ye got for sailing rough waters?"
Ad blocker interference detected!
Wikia is a free-to-use site that makes money from advertising. We have a modified experience for viewers using ad blockers

Wikia is not accessible if you've made further modifications. Remove the custom ad blocker rule(s) and the page will load as expected.