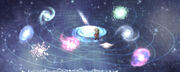 Sacred Beast Cosmos (聖獣の宇宙, seijū no uchū), alternatively translated as the "Divine Beast Universe" or "Holy Beast Cosmos", is the name for a primary location in the Angelique series. Its birth and cultivation is an ongoing story arc throughout the series. The cosmos is in close proximity to the Sacred Bird Cosmos and is informally referred to as its "younger sister".
The Cosmic Egg had two distinct shapes at its infant stages since the Queen Candidates saw it differently. One form resembled a blue canine creature with lapin ears and was named Rudy. The other form it took had pink fur and a gem on its forehead; this one was named Alphonsia. Before it hatched, the Cosmic Egg was called by both names during the Queen Examination. In the end, Alphonsia was the one to mature and became the final Cosmic Will.
Planets may have been formed during the Queen Examination, but it took considerable time for the cosmos to become habitable for humans. A palace was erected for The Queen and her Aide once the Mother Star, the heart of the cosmos, was able to sustain life. They watched over the cosmos's progress together, eventually possessing the resources they needed to establish their own Royal Institute. With patience and time, the first human of their cosmos was born.
Life flourished soon after yet the Sacrea required for sustaining it refused to progress beyond its wild state, dooming the inhabitants with their unwillingness to share. According to prophecy, the legendary étoile would appear to help the struggling cosmos. She delivered Sacrea from the Sacred Bird Cosmos to encourage Sacrea growth in this cosmos. Power assimilated in space to form galaxies under each element's alignment.
Sacrea
Galaxy Name
Key Planet
Light
Clair
Harrier
(ハーリア)
Saiga
(サイガ)
Darkness
Noir
Moran
(モラノ)
Endarl
(エンダール)
Wind
Air
Royuen
(ロイエナン)
Sweihan
(ツィハン)
Water
Aqua
Ikisana
(イキサナ)
Mayanna
(マヤンナ)
Fire
Flamme
Chechika
(チェチカ)
Viro
(ヴィーロ)
Greenery
Vert
Ancienne
(アンシャンヌ)
Opias
(オフィアス)
Steel
Acier
Mihas
(ミハース)
Parage
(パラジェ)
Dreams
Reve
Sabut
(サビュート)
Ragur
(ラグー)
Earth
Terre
Dyrak
(ディラーク)
Cielsera
(シェルセラ)

The cosmos's fate beyond its richer development with the étoile has yet to be specified.
Ad blocker interference detected!
Wikia is a free-to-use site that makes money from advertising. We have a modified experience for viewers using ad blockers

Wikia is not accessible if you've made further modifications. Remove the custom ad blocker rule(s) and the page will load as expected.