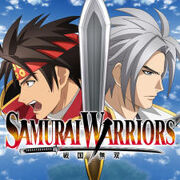 Samurai Warriors (戦国無双, Sengoku Musou) is a 2015 one cour animated TV series adaptation of Samurai Warriors 4-II. It takes place after the events of its previous animated TV special. Original characters will appear in this narrative to deviate from its base. Voice actors from the game reprise their roles for their respective characters.
The TV special creators also created the TV series. TYO Animations is producing, Yuka Yamada wrote the screenplay, and Aki Tsunaki did the animated character designs. Tezuka Production is aiding the animation department. It began January 11, 2015 and ended March 29 on TV Tokyo.
For the American release of the series players are able to purchase and download each episode from the PSN Store. Each episode is available for Purchase, $0.99 for Standard Definition, while $1.99 for High Definition. Purchasing all 12 episodes in SD will cost $11.88, while purchasing all episodes in HD will cost $23.88. It retains its Japanese audio while providing English subtitles.
Funimation has rights for the English Dub, despite having the English Subtitles for the Anime.
Image Songs
Edit
Performed by Wagakki Band
Ikusa is the opening song. Nadeshikozakura is the ending theme.
Episode Summaries
Edit
Consumer Extras
Edit
Each Blu-Ray and DVD volume includes the following extras regardless of the place where it is purchased:
Character postcard
Behind-the-scenes booklet
A Sengoku Musou Shoot serial code
Sanada Brothers radio CD recording; this voice actor variety program has a specific guest for each volume which are listed in their respective order below:

Masaya Takatsuka (Kanetsugu Naoe)
Eiji Takemoto (Mitsunari Ishida)
Masaya Matsukaze (Takatora Tōdō)
Katsuyuki Konishi (Naomasa Ii)
Kensho Ono (Hideyori Toyotomi)
Joji Nakata (Ieyasu Tokugawa)
The first volume includes non credit versions of the opening and ending.
Volumes 3 and up will include unaired Sengoku Musou High School segments that include additional characters.
Purchase every volume to receive an eligible invitation to a live Sanada brothers' talk show event scheduled September 27, 2015.
Attendees of the Sengoku Musou Gaiden Seiyuu Ougi Gaiden 2015 Haru could have purchased the first volume with autographs from Yukimura and Mitsunari's voice actors. Other store specific or limited edition merchandise can be seen on the official shopping page.
Related Media
Edit
Nico Nico Seiga users could have posted their illustrations up for end card consideration during the show's initial broadcast.
Character image song CDs were gradually published and distributed.
Ransei no Samurai Kingdom hosted a collaboration event using character visuals from the animated TV series. Players could have participated in a limited event battle to win drawing tickets for the Anime Sengoku Musou Gacha. The collaboration ended July 17, 2015.
To celebrate their pachinko adaptation, SanThree held a limited Twitter giveaway to give the entire TV series on Blu-ray. The campaign ended on August 22, 2016.
External Links
Edit