Pre-Order Bonus
Edit
Get the game new to receive a redeemable code for Lixia's Diaochan outfit.
Treasure Box Bonus
Edit
Purchase the boxed edition for Lixia's yukata outfit.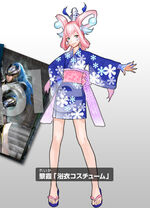 Lawson Collaboration Outfit
Edit
Reserve the game at Lawson/Loppi-HMV for Zhao Yun's waiter costume.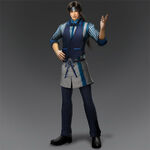 Nico Nico Live Bonus
Edit
Premium members watching the special presentation of the game will receive a serial code containing a special weapon for Guan Yu.
Demo Bonus
Edit
Begin the game after finishing the demo to unlock special weapons for Zhao Yun and Lei Bin.
Can equip weapons while buying from merchants.
Allows players to sell weapons in bulk.
Includes a special wallpaper.
An on/off function for the PS4 controller speaker has been implemented.
Enhances processing speed and display quality for the PS Vita version.
Adjusts user interface.
Fixes a bug that freezes the game during a Resonance attack sequence.
Removes a glitch that prevents players from watching events from the gallery.
Fixes interim save bug.
Allows user interface to correctly stay in place while performing certain attacks.
Adds the "Ultimate" difficulty setting once the game has been cleared once.
Enables players to cancel bulk skill selection.
Allows players to view the status of weapons sold before buying them.
Includes an option to sort weapons according to rank.
Displays the probability of weapon attributes.
Fixes a bug involving SP collection.
Fixes other minor bugs.
External Links
Edit