Pre-Order Bonus
Edit
Get the game new to receive a redeemable code for Lixia's Diaochan outfit.
Treasure Box Bonus
Edit
Purchase the boxed edition for Lixia's yukata outfit.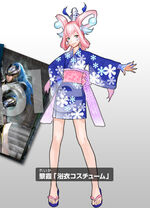 Lawson Collaboration Outfit
Edit
Reserve the game at Lawson/Loppi-HMV for Zhao Yun's waiter costume.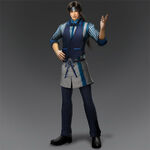 Nico Nico Live Bonus
Edit
Premium members watching the special presentation of the game will receive a serial code containing a special weapon for Guan Yu.
Demo Bonus
Edit
Begin the game after finishing the demo to unlock special weapons for Zhao Yun and Lei Bin.
External Links
Edit
Ad blocker interference detected!
Wikia is a free-to-use site that makes money from advertising. We have a modified experience for viewers using ad blockers

Wikia is not accessible if you've made further modifications. Remove the custom ad blocker rule(s) and the page will load as expected.