Tūs

Character Information

Allegiance(s):
Pars
Occupation:

Cavalry General

Weapon(s):

Sword and chain

Voice Actor(s):

Hiroshi Tsuchida
Tūs (トゥース) is a secondary character from The Heroic Legend of Arslan and a playable character in Arslan: The Warriors of Legend.
He is famed for his silver eyes and his expert chain-wielding fighting style. During the start of the Lusitanian invasion, Tūs was ordered to guard the distant southern Zala. Together with Isfan and Zaravant, he heeds Arslan's call to liberate the capital.
Personality
Edit
Tūs rarely speaks, but his soberness and punctuality are indisputable. Everyone in the Parsian ranks trusts him as a reliable and dignified man who faithfully completes his every order. A warm kindness lies underneath his quiet collectedness, and those willing to see it appreciate him dearly.
See also: Tus/Quotes
R1 (Unique Skill): Tus whips his mace forward, causing the ground to erupt. He tugs the chain back to drag hit enemies closer towards him.
: Tus extends his mace directly in front of him. If he hits an opponent, he yanks them towards him and catches his airborne foe with his sword. He slams them down on the ground to blast them and others away. Should he miss with his first strike, Tus will slam his mace against the ground for less damage.
Power Weapon Art
Dashing : A hopping diagonal slash.
Charge Shift: Swings sword and sends a whirlwind forward.
Miasma Weapon Art

, , , (): Tus swings his sword down, On the appending charge, he spins around to generate a whirlwind.
Water Weapon Art

, , , : Tus whips his mace around then catches an enemy in the air. If he hits, he swings the enemy around before slamming the target into the ground. He quickly retracts his mace if he misses.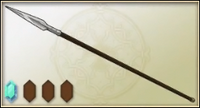 Wind Weapon Art
Dashing : Twirls his spear for multiple hits.
Charge Shift: Bashes twice with the wooden part of his spear. Surrounds his strikes with a whirlwind.
Power Weapon Art
Fire Weapon Art
Fusion Weapon Art

Miasma and Fire Element
C3, first hit of C5, and C6 have Miasma. Second hit of C5 has Fire. C3 and C5 are the same as Wind moveset. C4 and C6 are the same as Power moveset.
Mounted Moveset

Same as Breaker Blade.
Fighting Style
Edit
This article is a stub. You can help the wiki by expanding it.
Ad blocker interference detected!
Wikia is a free-to-use site that makes money from advertising. We have a modified experience for viewers using ad blockers

Wikia is not accessible if you've made further modifications. Remove the custom ad blocker rule(s) and the page will load as expected.