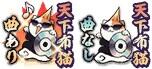 Utsunomiyah Ondo (うつのミャー音頭) is a Nobunyaga no Yabou character image song which is one of three songs found on the Nobunyaga no Yabou Tenka Fumao single. It is a Utsunomiyah Kunitsuna image song performed by Bondo Ooki who has the dual credit "Oda Nobunyaga?" next to his name.
Players of the social game can listen to a music collage of the entire image CD to celebrate the end of 2013 and the new year. Kunitsuna sometimes dances to his tune during his mascot tours.
Lyrics: Koei-Tecmo Wave
Composition: Akari Kaida
Nihon Crown Record label
うつのミャー音頭 始まるニャ!
うつのミャーミャー 宇都宮
うつのミャーミャー 宇都宮
幼いながらも 城主になった
御歳(おんとし)ここのつ お殿様
殿の名前は うつのミャー (国綱ニャ!)
愉快の都は 宇都宮
歌い踊れば 幸せ招く
うつのミャーミャー 宇都宮
小さき体に 大きな希望
ともに歩もう 我が民よ
お家再興の その日まで (頑張るニャ!)
餃子旨しや 宇都宮
食べて踊れば 力みなぎる
うつのミャーミャー 宇都宮
城主たるもの 泣いてはならぬ
何があろうと 泣きはせぬ
うるうる目玉は生まれつき (泣いてないニャ!)
とどろけカミナリ 宇都宮
天が泣こうと 我らは笑う
うつのミャーミャー 宇都宮
歴史と不思議が 共にある町
大好き 大好き 宇都宮
われが守るぞ 下野(しもつけ)を
(まかせるニャ!)
遊べ妖精 宇都宮
百人一首は 先祖の宝
うつのミャーミャー うつのミャーミャー
うつのミャーミャー 宇都宮
utsunomiyaa ondo hajimarunya!
utsunomiyaamiyaa utsunomiya
utsunomiyaamiyaa utsunomiya
osanainagara mo joushu in natta
ontoshi kokonotsu ontono-sama
tono no namae wa utsunomiyaa (kunitsuna nya!)
yukai no miyako wa utsunomiya
utai odoreba shiawase maneku
utsunomiyaamiyaa utsunomiya
chisaki karada ni ookina kibou
tomo ni ayumou waga tami yo
oie saikou no sono hi made (ganbarunya!)
gyouza-umashiya utsunomiya
tabete odoreba chikara minagiru
utsunomiyaamiyaa utsunomiya
joushutarumono naite wa naranu
nani ga arou to naki wa senu
ururu medama wa umaretsuki (naitenainya!)
todoroke kaminari utsunomiya
ten ga nakouto warera wa warau
utsunomiyaamiyaa utsunomiya
rekishi to fushigi ga tomo ni aru machi
daisuki daisuki utsunomiya
ware ga mamoru zo shimotsuke wo
(makaserunya!)
asobe yousei utsunomiya
hyakunin-isshu wa senzo no takara
utsunomiyaamiyaa utsunomiyaamiyaa
utsunomiyaamiyaa utsunomiya
Let's start Utsunomiyaa Ondo, mrrow!
Utsunomiyahmiyah Utsunomiya
Utsunomiyahmiyah Utsunomiya
He became the castle lord while he was so young
Our lovely lord will be nine this very year
Milord's name is Utsunomiyah (It's Kunitsuna, meow!)
We are a happy city, here in Utsunomiya,
we dance and sing and always make merry
Utsunomiyahmiyah Utsunomiya
Such hope lies in this small body of mine
Walk proudly by my side, my townspeople,
and wait for the day I can restore my family name (I'll do my best, meow!)
We have scrumptious pot stickers, here in Utsunomiya,
we eat and dance and grow strong with our fill
Utsunomiyahmiyah Utsunomiya
The castle servants dare not make me cry
No matter what, I do not want to cry
I was simply born with weepy eyes (I'm not crying, meow!)
The thunder rumbles, here in Utsunomiya,
when the heavens cry, we will laugh with glee
Utsunomiyahmiyah Utsunomiya
History and mysteries go hand in hand in this town,
the home we so love, our dear Utsunomiya
I will protect Shimotsuke
(Leave it to me, meow!)
for the fairies frolic here in Utsunomiya,
where the Hundred Poems by One Hundred Poets remains our ancestors' treasure
Utsunomiyahmiyah Utsunomiyahmiyah
Utsunomiyahmiyah Utsunomiya
External Links
Edit
Ad blocker interference detected!
Wikia is a free-to-use site that makes money from advertising. We have a modified experience for viewers using ad blockers

Wikia is not accessible if you've made further modifications. Remove the custom ad blocker rule(s) and the page will load as expected.